NHS Highlands have issued a statement attempting to deflect how confusion led to hundreds of vulnerable people being forced to wait outside in cold wet weather for their yearly flu vaccines.
Following an intervention from Scottish Health Minister Jeane Freeman – NHS Highlands new chief Executive, Pamela Dudek took to Twitter to apologise profusely everyone involved in the mishap. However, Dudek would make a second statement later in the evening where she attempted to distance NHS Highlands from blame.
Dudek issued an official statement via NHS highland's social media channels. In the official statement, there were no apologies; Rather, Dudek appeared to point blame at the patients.
The statement alleges that 1,500 patients had been assigned individual appointments – and the reason for the large queues was down to patients coming at the wrong time. The reality of the situation simply does match Dudek's story. Many patients were told to come at 9.30 am and they do not believe they were assigned a 'slot'.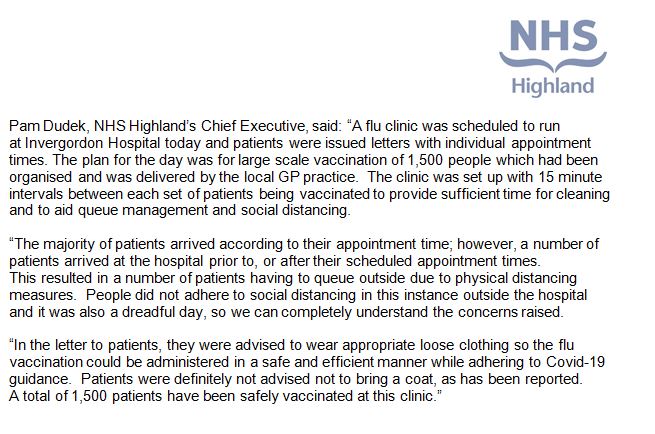 The statement also points blame at patients, many of them vulnerable, for not adhering to social distancing guidelines. The images of the queue show there was neither any social distancing guidance to patients or any members on staff on-site to ensure the extra patients would maintain social distancing guidelines around the hospital.
The Chief Exec' attacked reports from Councillor Morley-Smith, that patients had been told 'not to bring a coat' to their appointment. The Chief Exec stated that patients had been told to 'wear appropriate clothing', and that people had not been advised to not being a coat'.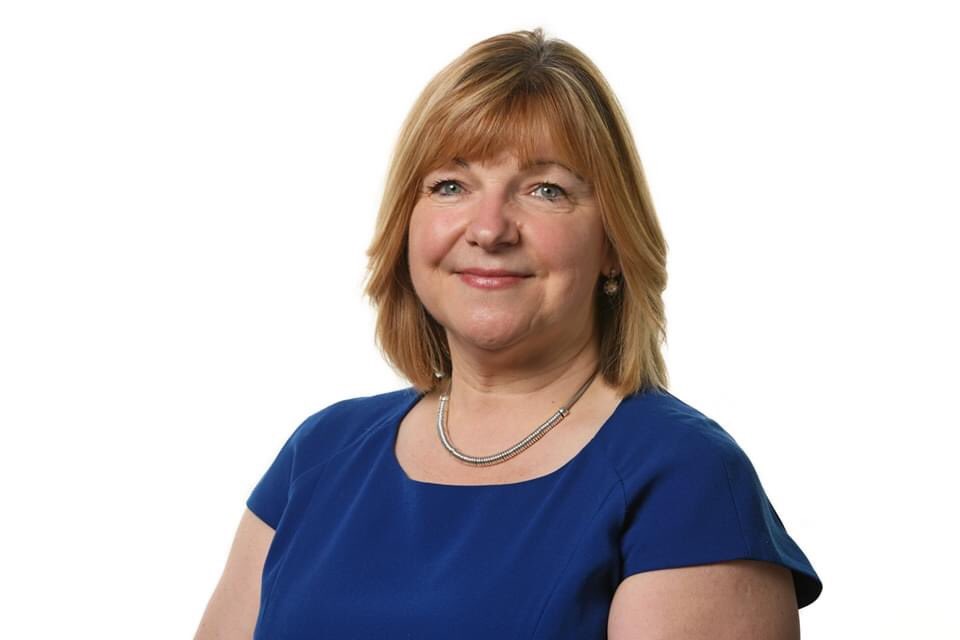 Following the original report, Voice Britannia has investigated further and seen copies of letters recieved by some patients. The problem stems from instructions that some felt were unclear. Patients were told to dressed in loose clothing and were told 'not to bring any belongings with them'. This guidence led to confusion over what patients could, or could not bring with them.
Saturday's mix-up combined a series of small errors into one bigger, more embarrassing problem. If what Pamela Dudek says is true, and all 1,500 people were all given their own appointment slot, NHS Highlands is still to blame – As they did not properly plan for 1500 extra patients requiring access to the hospital.
The reaction of Jeane Freeman has to be commended. It is rare to see a Government Minister react to and fix something so quickly; It is not something you will see from her Westminster counterpart!
Reported to Voice Britannia by Alex Tiffin – Black Isle Media
Follow us on Facebook and Twitter and tell us what you think!